Canva is a very popular program that you can use for all your design needs as an entrepreneur. If you have recently discovered the free version of Canva or have used it for a while, you might be wondering whether the Pro version could be interesting. If you want to work quickly, efficiently, and affordably, the investment in Canva Pro is absolutely worth it. In this blog, I will explain all the extra features which are available in Canva Pro.
What is Canva Pro?
Canva Pro is the paid version of Canva: an online design program that lets you create anything you want. You can create social media posts in all formats but also presentations, reports, infographics, brochures, logos, images, banners, videos, and so on.
You can upload your designs in different file formats: including JPG, PNG, PDF, and SVG. In addition, you can save all your designs in the tool itself.
In short: Canva offers a practical all-in-one solution. A lot is already possible in the free version of Canva, but in Canva Pro a lot more is possible.
Save a lot of valuable time
How much time do you spend creating your social media posts each week? Try to keep track of it: you might be shocked. The time savings you will experience with Canva Pro will already be worth the money alone.
You really save a lot of valuable hours that you can then focus on other tasks.
You will have more storage space for your designs
When designing your content, it can quickly become a collection of many separate files that take up a lot of space.
The free basic version gives you 5 GB of storage space. When creating your designs, you can also upload your own files (such as pictures and videos) to Canva's media library. If you do this regularly, this will quickly reach the limit of 5GB.
In the Pro version, you have 500 GB at your disposal. That gives you infinite possibilities. You can save everything in Canva, and you do not need to save anything locally. You don't have to upload or download anything either because it's all ready to use in Canva.
Ninja tip: despite having so much storage space, it's advised to clean up your library once a month. See what you no longer need or have duplicated and deleted those designs. That way, you keep your database organized.
Bring structure to your library with unlimited folders
If you're not careful, all your designs will get mixed up, and it will be hard to find something. In the free version of Canva, you have to option to create two folders.
In the Pro version, you can create as many (sub)folders as you like. This allows you to easily create an orderly structure in which you can easily and quickly find your designs. This way, no precious time is lost in searching for designs.
Easily adjust the size of your design
This functionality is already worth the money you pay for the Canva Pro version. Do you have a great design ready for Facebook, and would you like to post the same on Instagram and LinkedIn? The manual resizing of designs is a time-consuming task.
In the Pro version, there's a "Resize" option. With a click on the button, you can easily convert your design to any other format.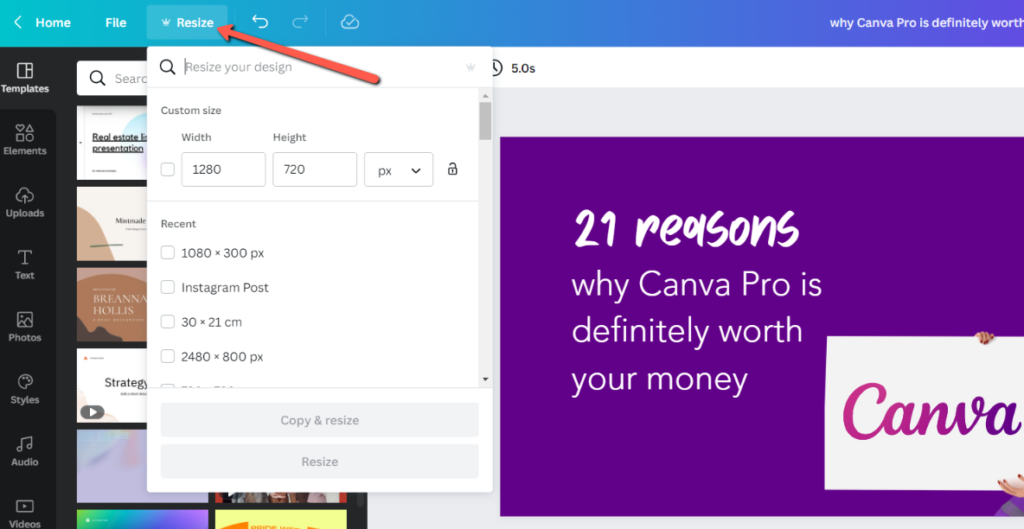 Your new design will automatically get adjusted to the optimal dimensions for the relevant social media platform. Think of Instagram, Pinterest, and LinkedIn. With this function, you can also easily convert a post to a Story, for example.
Sometimes you still need to dot the I's and cross the t's. For example, make the font larger or move an image slightly. But then it is immediately ready to post. Doing this will save you a lot of time.
Ninja tip: in addition to your designs, you can also easily place your pictures and images in the relevant folders. That way, you will have everything placed together.
Create your own brand kit
In Canva, you have the option to save your branding material, so you always have immediate access to it. In the free version, you can save one palette of brand colors.
In Canva Pro, you have the so-called "brand kit." This feature allows you to save your own color palette or upload your own fronts. Within the brand kit, you can easily find the right color or font.
Save time on designing by applying your branding to any template with one click. With this, Canva Pro offers a useful feature that makes customizing your brand a lot easier and faster.
Ninja tip: if you are working in a team within Canva, your teammates will also have access to the palette and can work with it right away.
Get access to everything in the media library
In Canva, you have two choices: you can use the available free material, which is already a lot. You then pay per premium item.
But you can also get access to all Pro material for … per month. This gives you an infinite choice of templates, images, fonts, video, and audio. With Canva Pro, you get access to everything, and you never have to pay extra for separate items.
With over 75 million premium images, stock photos, videos, graphics, and audio files, you can be original and professional in every aspect within Canva.
In terms of templates: in the Pro version, you already have more than 450000 free design templates at your disposal with which you can create the most professional designs even as a beginner.
Ninja tip: the best part is that you can also use all your designs commercially.
Get access to all Canva Pro fonts
Besides choosing colors, the choice of fonts is also very important for your image. In the Pro version of Canva, you can search for something that suits you and your business best. You can choose from over 3000 types.
Browse through the selection and go for fonts that make you stand out. With this, you can certainly find your own style and also start to use it in your designs.
Ninja tip: in Canva Pro, you can also upload and use your own fonts.
Get access to all elements
Canva has a countless number of different elements you can use in your designs. Think of illustrations, frames, animations, lines and shapes, diagrams, and so on.
The choice of elements in the free Canva version is quite limited, and it is precisely with elements that you can give an individual and authentic look to your designs.
In the Canva Pro version, everything is included: you can use all the elements without any limits. You can even use them to design your own products.
Make use of different animation styles
Animations make everything more fun and they make your designs lively. In the Pro version, you can use all available animation styles. With just one click, you'll instantly see your designs come to life.
Choose from 11 fun animation styles to add personality to your designs. You can download your design as a GIF or video format (MP4) and you can easily share it on your social media.
Turn your designs into time-saving templates
Have you created some designs that you would like to reuse? No need to copy and edit! In the Pro version, you can convert your favorite designs into templates by simply pushing a button.
Working with templates saves you a lot of time. With templates, you can quickly find your desired design and get started with your new design right away.
Filter by free and Pro images
Canva offers an extensive library of stock images and elements. Only in the Pro version do you have the option to filter by free and Pro elements when searching.
This is especially useful if you want to quickly create designs using only free elements. This feature will save you a lot of time.
Compress your (stock) photos
Stock photos are useful for creating your blogs or your social media posts. They are royalty-free images that you can download and use in Canva. In the Pro version, you will additionally find the most exclusive images that you can use unlimitedly.
Easily download any file types
Besides your images, you can also download all other documents and designs you create in Canva in your desired format. You can also set a custom download quality.
In doing so, you can choose from multiple formats in which you want to download your design. Think PDF, GIF, SVG, PNG, transparent PNG, and video. This way, you never have to waste time manually changing the format or resolution of your design.
Download your images with a transparent background
Want to download your design with a transparent background? You can do it in the Pro version of Canva.
If you click on 'Download' in Canva Pro via 'Share' in the top right corner and choose the PNG format, you can check the 'Transparent background' box. Canva will then automatically download your design with a transparent background without doing anything.
Ninja tip: these are perfect images to use for your social media posts.
Remove the background with one click
Many people know removing the background of images only from programs like Photoshop. Canva Pro also offers this handy option.
With the effect 'Background Remover', you can, as the name suggests, remove the background of your photo with a single click. You can then reuse the cropped image on other backgrounds.
Adjust your templates with one click
Have you changed something about your corporate style? Or do you want to change the colors of a ready-made template in Canva? With the "Styles" function on the left of the menu bar, you can easily adjust this with one click.
Once you've saved your corporate style there, Canva automatically adjusts all the colors and fonts of a design with one click. How easy can it get? If the result is not to your liking, you can easily use the function again, and Canva will automatically generate another variant for you.
Work with previous versions with version history
The version history is a very practical extra in the Pro version of Canva. This feature allows you to quickly go back to previous versions of your designs. With version history, you can easily restore a desired earlier version.
Forget about being annoyed about accidentally deleted versions of your designs!
Schedule your posts with the social media planner
A social media planner is a must as an entrepreneur because it saves you a lot of time. With such a tool, you can prepare your designs and post them automatically. Canva Pro also offers a social media planner. This planner allows you to have Canva post your posts on several social media channels.
A small disadvantage is that not all social media platforms are included yet. A big advantage is that you can prepare all your designs immediately after creation.
Create professional short videos
Do you work with videos, or do you plan on working with them? In Canva Pro, you can create professional short videos quickly and easily. You will find all kinds of templates for videos in Canva. Furthermore, you can use all the images and videos.
Of course, you can also upload your own videos and use them in the templates. You can add audio to your videos: think of background music in a video where no words get spoken.
With Canva Pro, you can easily create professional videos without complicated or expensive programs that you have to purchase extra.
Make use of professional audio
In addition to videos you can use in Canva Pro, you also have access to a huge audio database. You really will find something for everyone.
Canva Pro allows you to not only use your videos but also your animated posts or Stories and make them stand out even more.
With a click on the button, you select 'Audio' in the menu bar on the left and add the desired audio. You're all set!
Work together efficiently
Do you have other employees who need to create or design certain content?
Think brochures, flyers, infographics, or presentations. Or do you have other collaborative partners who need to work with all kinds of designs? With the Pro version, you can all work together in one account.
People can log in simultaneously and collaborate in real-time on a particular design. There is also an option to comment on designs, and you can tag each other. This feature allows you to collaborate efficiently as a team within Canva. Be sure to check out if this is of interest to you.
Ninja tip: you can add up to 5 people to your team on one license.
These were the main benefits of Canva Pro. Would you like to save a lot of time as an entrepreneur? And would you like to have professional designs without hiring someone for them all the time? Then try Canva Pro for free for 30 days now and experience all the benefits. Have fun designing!
Did you know that you can use Canva to quickly and easily create designs for your (online) business? In this blog, I will share 14 useful Canva hacks for amazing images that will take your business to the next level! https://www.365daysofsuccess.com/14-canva-hacks-for-great-images/