Instagram is very popular: almost as popular as his big brother Facebook. Instagram offers many useful settings that you, as an entrepreneur, can take advantage of. You often don't have the time to reinvent the wheel when it comes to social media like Instagram. Besides that: time is money. In this blog I share 15 helpful tips with you that you can apply immediately. Save time, and work easily and quickly on the awareness of your company.
SAVE TIME
1. Posting one multiple Instagram-accounts
Do you have multiple Instagram accounts? For example because you have 2 (or more) sub-target groups? And you want to post certain posts on multiple accounts? That is simple.
You link these accounts to one phone. To do that you need to go to your profile name at the top and click on it. Then click on 'Add account' at the very bottom. Instagram will then take you to a screen where you can sign in to an already existing account or create a new one.
Done? Now you will see all your accounts listed in the options when posting your next post. Per post you can switch on the accounts where you want to post it. You do this by switching on the sliders next to the accounts and by then posting your post. Your post will then be posted on the accounts you chose.
2. Quickly find a post again
Are you sometimes looking for a specific post? Imagine you want to go back to a post from a potential client, because you want to send her a personal message. You don't have to scroll through your newsfeed for hours or look through your profiles.
This can be done faster: go to your profile. Click on the three bars (the hamburger menu) on the top left. Then click on 'Settings' – 'Account' – 'Posts you've liked'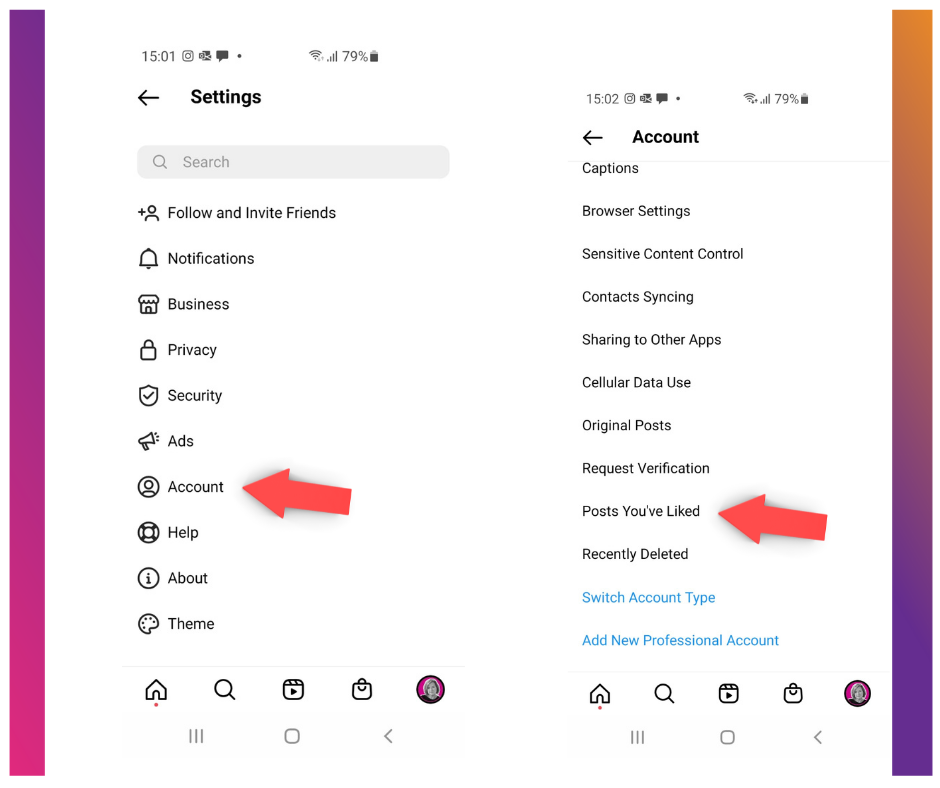 By doing this a feed will be opened that shows the 300 most recent posts that you have liked. This way you can find back a post fast and easily which can save you a lot of time.
3. Perfect feeds are no longer a must
You have probably seen them: the perfect looking feeds from competitors which look like a work of art. And of which you know they took a lot of time and attention. Good news: in 2020 this is no longer necessary. The trend is becoming more of pictures that are not specifically geared towards each other in terms of color, composition or content. So just post that picture you envisioned or that suits the moment.
Just post the desired words and images without all sorts of specific complements on Instagram. No more hassle with a fixed 'look and feel', the colors, the background and filters. This also will save you a lot of time: try it out and see if it fits you and your business.
Ninjatip: another trend is that the average text with a post on Instagram is getting longer. Posts with longer texts score better than posts with a single sentence.
SAVE MONEY
4. Waste less data
Because Instagram automatically loads photos and videos, your data drains quickly when loading this content.
You can limit this: you do this by going to your profile and clicking on the three bars at the top of the screen. Then choose the option 'Settings' and then click on 'Account'. After that go to 'Cellular Data Use' – Then turn on the slider 'Use Less Data'.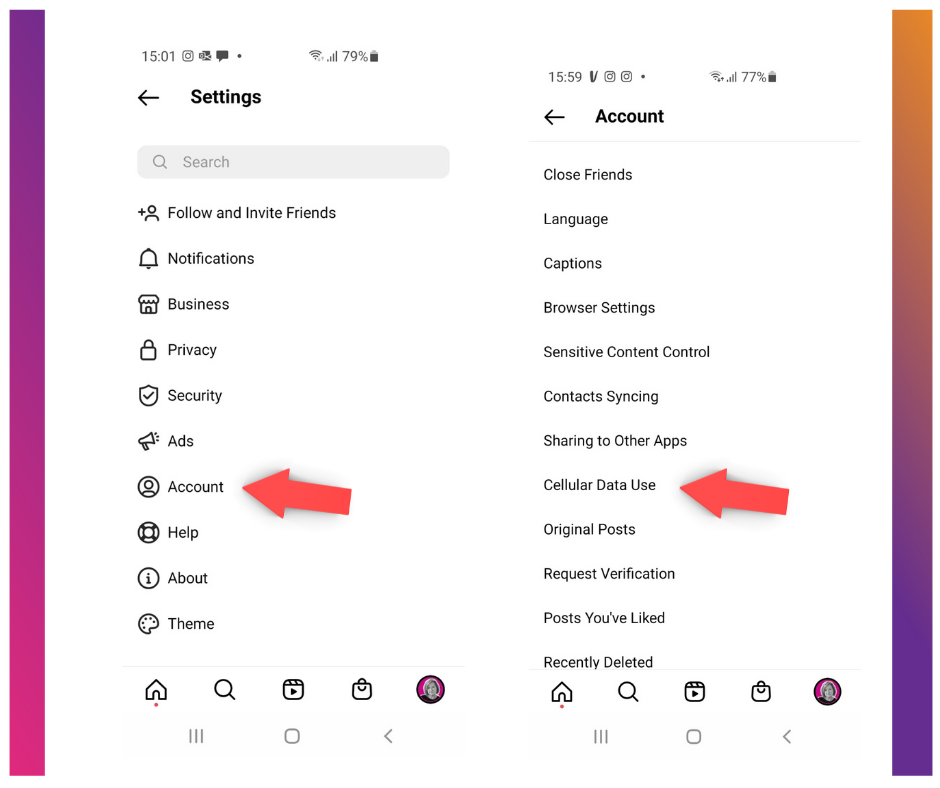 Beware: it's possible that loading photos and videos takes a bit longer now, but your total data usage will noticeably decrease.
HASHTAGS
You probably already use Hashtags on Instagram. On Instagram you can search by hashtag and every hashtag you use will turn into a link. Type a # at the beginning of a word and you will have a hashtag. When people click on your hashtag, they will also see all the posts related to that hashtag: also from people they are not following. With that, hashtags are a perfect fit for your recognition. I would like to share a few interesting tips with you about this.
5. Do hashtag research
Preferably only use hashtags that are relevant for your target audience. Take your time and do hashtag research, so that you're sure you're using the right hashtags. It's possible that you have a different focus right now than a few months ago, and that the hashtags you're using now could use an update. Grab a pen and paper and write down the following:
What are your keywords at the moment?
What hashtags do colleagues / competitors / influencers use?
What does Instagram suggest as related hashtags?
Now make a list of the hashtags you can use for the coming period. It's smart to always use a few specific hashtags that relate to the photo / text of the post. You take the other hashtags from the list you made before.
Beware: You can use up to 30 hashtags on a post.
Ninjatip: Create a hashtag specially for your brand or company.
6. Find relevant hashtags
There are many English hashtags to be found. When you want to attract Dutch followers, these will not help you. Therefore use this tool that helps you find hashtags: https://www.tagsfinder.com/
Type in up to 10 keywords and find a lot of hashtags you can use right away.
7. Also use hashtags in stories
Did you know that stories that contain hashtags get 10 times more views and get noticed more? You add a hashtag to a story with a sticker. This is how you work on your visibility.
8. Make your photos even more beautiful
Instagram is mainly about your photos. You might already use the filter option that Instagram has. But do you also already use all the other options Instagram offers you to make your pictures look more beautiful and professional?
You can find them next to the filter option at the bottom. Click on 'Edit' on the right:
Here you can improve your photos even more by using the extensive editing options. Such as brightness, contrast, structure, warmth and saturation. All helpful on the Instagram app itself. When you're done you click on 'next' and the edits will automatically be implemented.
9. Delete unwanted tags
Every follower can tag you in their post. Sometimes you might get tagged in something that you don't really like (business-wise or privately). Luckily with Instagram, you can delete these tags from the posts yourself.
You do this as follows: Go to you profile on Instagram. Click on the tag photo icon on the right, underneath your bio. Now you will see all the posts in which you have been tagged. Click on the post you want to 'untag'. Now click on the photo to make your username appear.
When you click on the three dots at the top right, you will see a menu with options. Click on the 'Post options'. After that click on 'Remove me from post'. Finally, click on 'remove' to confirm.
10. Instagram highlights
You probably use Instagram stories sometimes. Stories are viewed a lot on Instagram and are a perfect tool for your visibility.
A downside of a story is the fact that it's only visible for 24 hours and it then disappears from Instagram. That's a shame. You can easily fix this by making a highlight of your story. This way you can pin your favorite moments on your profile, so that they can also be viewed after these 24 hours.
The nice thing about this is that you can make your profile look professional with these highlights. You can do this with the so-called 'covers'. These are the small round pictures that you often see on an Instagram account.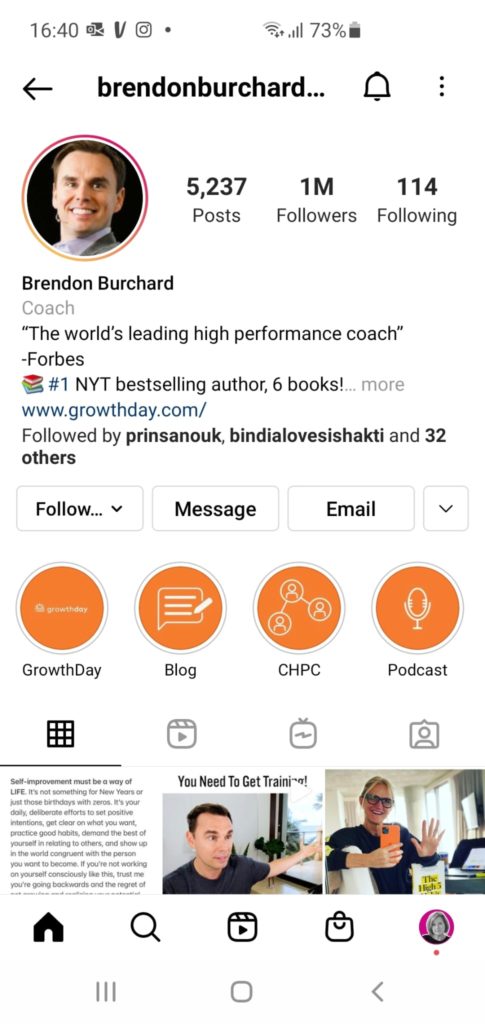 As you can see: it gives it a very professional appearance.
11. Go for that personal note
It doesn't always have to be informative; the content you share on Instagram. Of course, you have to show that you're an expert in your field. Especially share all your interesting and valuable knowledge with your followers: but alternate with your own experiences in that area.
A personal story with a catchy question always works well. This encourages the reader to interact. Respond to the emotion. Some important emotions for people in a social environment are:
Outrage
Fear
Admiration
Emotion
Pride
Take a look at what people share: what they respond to and what they 'like'. This has often to do with one of these emotions. Take advantage of that and use it in a targeted manner.
USEFUL
12. Bookmark your favorite posts in a collection
It's easy to lose yourself when scrolling through your Instagram feed. When you're looking for something specific, you will be busy for a while. Do you want everything organized on your Instagram? This is possible with the bookmark feature. With this, you can create a collection of your favorite posts that you can look through later on.
For this, go to your profile and click on the three bars on the top left above your profile picture. Then select the tab 'Saved'.
Click on the plus button in the top right corner to create a new collection and give the collection a name. Now when you see a post that you want to add to your collection, you can click on the bookmark icon underneath the post. Then select the collection you want to add the post to. This way you can always find it quickly by going to 'collections' on your profile.
13. Check who your followers are following
It sounds like a tongue twister, but it's a really useful feature on Instagram. You can see which posts (or videos) your friends have viewed. It's an ideal function to see what your (potential) clients think is interesting. Maybe you could take some interesting information from that, that you can use for your business.
This is how you go to their recent like and comment history on posts: click on the heart icon at the top right of your home screen. A list with all the likes and comments on your posts will now appear. Go to someone's account via the profile name of this person. Then click on 'Following' on the top and you will see who this person is following. Maybe you will see people or companies here, that you can also follow.
14. Turn off comments on your posts
It is not possible to turn off comments for your whole profile (so for all your posts). But you can turn off comments for specific posts.
When you create a new post, you get to a page where you can add things like captions, tags and the location. Click on 'Advanced settings' here, all the way at the bottom. Now select the option 'Turn off commenting'.
Now it's no longer possible for people to comment on that post you're creating right now.
Okay! Enough inspiration again to get to work with your business Instagram account. Good luck!
Better marketing with Instagram? That's possible! Join the 365 Days Instasucces and we will get to work together: https://www.365daysofsuccess.com/365-days-instagram-success/